Trafalgar Flats
March 7, 2017, Update July 2020
Neighborhood Center: Barcroft


UPDATE 07/20/2020
All apartments have been sold but at the moment none of the retail space has been rented. One of the new bus stations is being installed in front of the building. There had been some talk that CPRO might move into one of the retail spaces as they will loose their current space once the work begins on the new Fillmore Gardens Shopping Center.

UPDATE 01/22/2019

At the West Columbia Pike Coalition meeting last week Marwin Shahin announced that Trafalgar Flats is almost complete and is expected to be to have some occupancy by March. At the moment 49 units, priced in the mid $200s - low $500s have already been sold, mostly to Millennials. It has 78 units which includes 1 and 2 bedroom apartments and studios, a Gym and Lounge, 78 parking spaces for tenants, 17 parking spaces for retail customers, a 3,572 square foot private courtyard, 8,000 square feet of ground-floor retail, indoor bike storage.


UPDATE 03/23/2017
At the Arlington Mill Civic Association Meeting on March 21, 2017, Marwin Shahin of the Pillars Development Group announced that they expected to complete Trafalgar Flats by spring-summer, 2018 and have some occupancy by the early fall . He went on to say that at this time there is not any retail businesses lined-up for the first floor.
New Complex

Pillars Development Group, is building a 4 story mixed use complex at 4707 Columbia Pike which is at the corner of the Pike and South Buchanan Street. The building also has the address of 909 Buchanan Street on the section that faces Buchanan Street. The complex will be named Trafalgar Flats. The county approved the project in December 2014, it will include:
78 residential units,
87 underground parking spaces
3,572 square foot private courtyard.
8,000 square feet of ground-floor retail,
10 shared (visitor/customer) parking spaces
28 reserved bicycle spaces within secure storage facility
Rear and east alley for access to parking and loading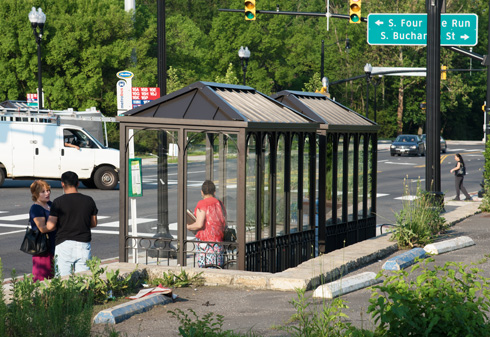 ---
Construction

Work begain on the site in the fall of 2016. At the moment (03/05/17) work is in the progress of shoring-up and digging out the foundation.


---
Feedback
I got a number of comments and feedback from Barcroft residents. Some to correct me on the chronology of the restaurants at this location. Based on the feedback a correction has been made above. Others remembered that there had been a Hotshoppes Jr and also a Pappy Parker's Fried Chicken before there was a Roy Rodgers. If any of you can give me actual or appoximate dates and and other information please contact me. Others wrote to say that Bob and Ediths had been very busy whenever they were there including:


Gary Mason
The Bob & Edith's II restaurant was indeed popular with patrons from the surrounding neighborhoods, including from Barcroft.

According to B&E II's manager at the time its demise was due to the loss of a key facet of its financial mainstay – the very late night/early morning customers from the apartments along South Four Mile Run Drive, especially the very large Virginia Gardens Apartments (VGA) complex between South George Mason Drive and South Walter Reed Drive.  When the VGA closed, going into an extended period of major renovations, it displaced a sizable portion of the restaurant's clientele out of the area.  So much so that the restaurant was only occasionally able to break even with reduced hours.  

Following the VGA renovations the new tenants differed significantly from their predecessors, culturally and economically.  But whether they would have been drawn to B&E II in sufficient numbers to restore it to profitability is unknown since the restaurant did not survive the loss of patronage brought on by the earlier renovations.